What is bakuchiol?
Bakuchiol is a plant extract, a phytochemical synthesized from the seeds of psoralea corylifolia (psoralea corylifolia). It stimulates the production of the so-called "youth gene". Although bakuchiol has only recently been discussed, the history of its use goes back to the ancient medicine of China and India. Previously, it was considered as an antibiotic and antioxidant, but after a study published in the authoritative British Journal of Dermatology, it became known that it contains a powerful anti-aging component that can replace retinol.
What is the difference between retinol and bakuchiol?
Retinol - a derivative of vitamin A - is the gold standard in the field of cosmetology, the action of which is well studied. It is successfully used in the treatment of acne, post-acne, improving the texture of rough skin and against premature aging, which causes ultraviolet radiation. However, retinol has several side effects in the form of skin erythema, itching, peeling, tingling, or burning. It is not recommended for sensitive skin, as well as during pregnancy and lactation.
That is why scientists have been looking for alternative components that can be just as effective, but more gentle on the skin. Plants have become one of the sectors of growing interest, as herbal preparations have been the mainstay of treatment for various diseases for centuries. Increasingly, natural products are being evaluated for their use as cosmetics. This is what happened with bakuchiol.
If you look at the pictures below, it will become clear that structurally retinol and bakuchiol differ from each other. But scientists were able to prove that bakuchiol acts similarly to retinol, that is because it is able to regulate the same genes as retinol.
Structure of Retinol
Structure or Bakuchiol
A comparative study has recently been published in the British Journal of Dermatology, it was conducted over a period of 12 weeks. It involved 44 women who applied either retinol or bakuchiol to their skin. After this period, dermatologists noted that they both have a rejuvenating effect (stimulate the production of collagen types I, III, and IV, and also inhibit the enzyme that destroys collagen).
Both bakuchiol and retinol significantly reduced wrinkle surface area and hyperpigmentation. However, women who used retinol reported more flaking and burning of their facial skin. Those who used bakuchiol did not report any side effects. At the same time, the effect of using these two components was equally as good.
Therefore, bakuchiol is a plant-based, more tolerable alternative to retinol that has become a lifesaver, especially for sensitive skin. Right now it is only used by companies that are actively following the latest research and development, but we are sure that the interest in this component will grow exponentially in the beauty industry, in the coming years.
Who are cosmetics with bakuchiol suitable for?
Naturally, the latest research on bakuchiol and the conclusions that dermatologists have reached are great news for people with sensitive skin, as well as skin conditions such as eczema. Now, they can get the desired anti-aging, as well as an anti-inflammatory effect without irritation and peeling.
Also, bakuchiol, unlike retinol, has become available to women during pregnancy and lactation, because it does not affect the health of the fetus. Bakuchiol has also become a new benchmark in vegan cosmetics as it is plant-based and not tested on animals. Scientists have proven that bakuchiol is photostable, which means that you can use cosmetics with bakuchiol even during the day, in bright sun, without fear of hyperpigmentation.
Cosmetics with bakuchiol from IRENE BUKUR
Our company has always prioritized herbal ingredients based on naturalness and safety, which is why we immediately set on developing an anti-aging program with bakuchiol.
In the range of IRENE BUKUR cosmetics, you will find a line of creams with bakuchiol called New Skin. This is a deep anti-aging expert program that activates the "cells of longevity", launches rejuvenation processes, and prevents premature skin aging. It includes three products: a day and night cream with bakuchiol, as well as an eye cream.
It is worth noting that the IRENE BUKUR brand has always maintained a balance in the use of herbal ingredients, as well as the latest tested developments in the beauty industry. Therefore, when creating our new anti-aging program with bakuchiol, we used vitamins, vegetable oils, and extracts, as well as Syn-Ake peptide (DSM, the Netherlands), Ultra Filling Spheres ™ complex (BASF laboratory, Switzerland), Pentavitin® carbohydrate complex (DSM, Switzerland).
The New Skin program was created for deep moisturising, wrinkle reduction, fighting pigment spots and dullness, lifting, strengthening turgor, and smoothing skin tone and structure. According to the test results of the Swiss company DSM, the first results of using creams with bakuchiol in 2 weeks caused a reduction of wrinkles, reduction of puffiness, tangible hydration, and an increase in skin elasticity.
Benefits of creams with bakuchiol
Creams with bakuchiol from IRENE BUKUR have no analogues in Ukrainian production. In terms of their effectiveness, they are in no way inferior to foreign funds, since we buy the same high-quality raw materials abroad. But! Unlike foreign analogues, our products are more affordable, since we produce some of the ingredients in Ukraine and do not include advertising costs in the cost of our creams.
40+
At the age of 40+, we recommend using the New Skin anti-aging program, in courses, 2 times a year for 2 months, to stimulate the production of your own collagen. Closer to 50 years, creams can be used on an ongoing basis.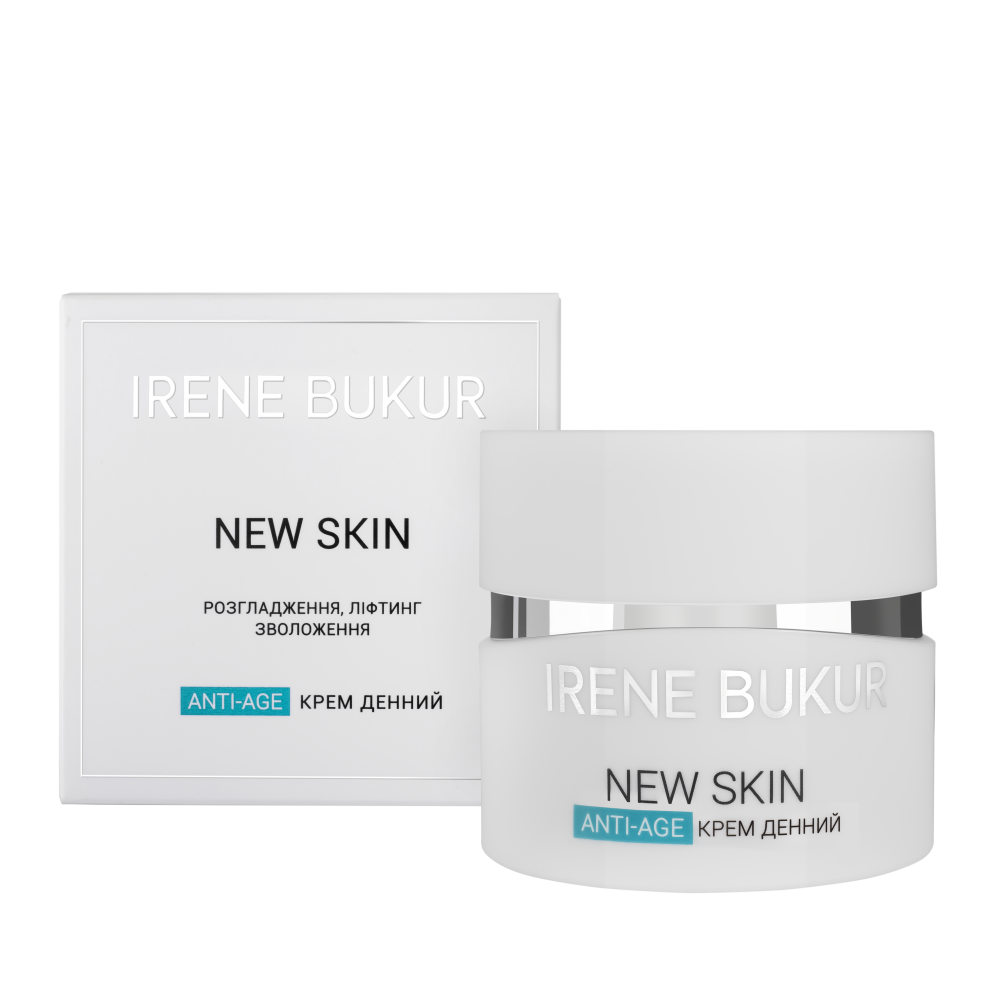 Day cream for the face helps to reduce mimic and age wrinkles and breaks, visibly tightens and strengthens the skin, has a long-lasting moisturizing effect, creates an invisible micro-cloth that protects the skin from dehydration and allows it to accumulate in the skin. thereby increasing its firmness and resilience.
BUY
Related Products